School Bus Drivers Honored by California Highway Patrol
Industry News
School Bus Drivers Honored by California Highway Patrol
By 
Merari Acevedo-Vigo
 – School Transportation News May 18, 2023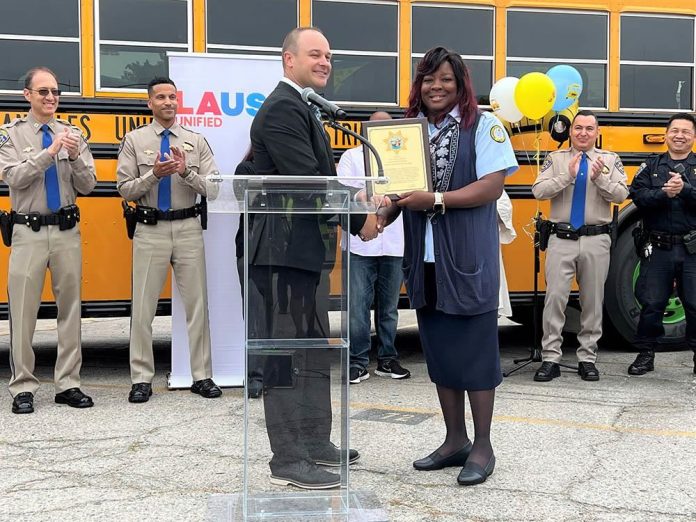 LAUSD bus driver Tamara Conley receives her award from the California Highway Patrol on May 9, 2023.
The California Highway Patrol (CHP) and state education officials recently named the two school bus drivers of the year.
Combined, the drivers have 61 years of experience driving schoolchildren: Thirty-six year veteran driver Tamara Conley of Los Angeles Unified School District, representing Southern California, and 25-year veteran Robert Sorber of Miller Creek School District in San Rafael, California, for the state's northern region.
The School Bus Driver of the Year award given by CHP is awarded to hard-working and dedicated candidates that contribute to the school's bus industry for the safe transportation of students in California.
Conley was presented with the award on May 9.
"She is an inspiration and represents how students are supported all day long," a statement from the LAUSD adds.
Through the district's statement, many coworkers, board members and staff expressed their gratitude toward Conley and their excitement that she received a well-deserved honor.
"I am grateful to Ms. Tamara Conley for her dedication and servant leadership," said LAUSD Director of Transportation Daniel Kang. "She is the first district employee whom some of our children see when they go to school and the last when they are dropped off. Ms. Conley represents the best of us."
Conley has had a perfect attendance record for the past 15 years. She says she loves what she does and said that she's got a couple more years left until she retires.
Meanwhile, 25-year veteran Robert Sorber of Miller Creek School District received his award last month. He is credited with driving about 225,000 accident-free miles over his career, according to CHP.
The winners each year are selected by a committee of representatives from CHP, the California Department of Education, the Department of Motor Vehicles, and the California Association of School Transportation Officials.